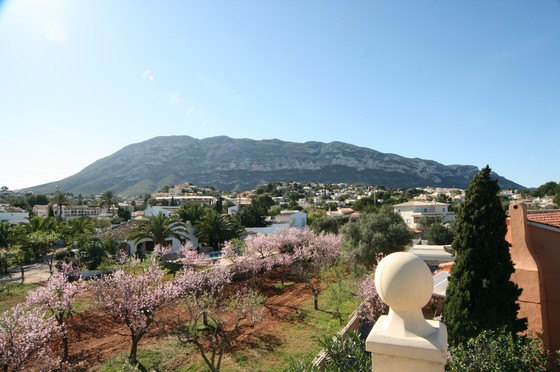 Sun, beach and water – for many that is the Costa Blanca. But there is so much more to the port city of Denia than the sea. A mighty mountain towers directly above the city – the Montgo in Denia. People say he lies there like an elephant. Again, other residents of Denia think that he looks like a little sugar loaf.
The mountain Montgo – local mountain of Denia and Javea
The Montgo is Denia's and Javea's local mountain. If you lie down on the beach in the sun, you can see your summit cross glittering high up. A helicopter has flown the well-known cross at 694 meters above sea level. Sporty people lace up their hiking boots – and climb up.
The tour through the nature reserve on the Montgo mountain leads over stones and rocks. We continue past palm trees and lavender. The path is steep, especially at the end. A few climbing skills are still required. It is therefore always advisable to hike up in a group. But up on the mountain, on the cross, all that is forgotten. The world is at your feet here. The houses of Denia are tiny. Infinitely far the Mediterranean Sea. The city of Javea stretches far and wide. And the area around Alicante is so mountainous. You can see as far as the Bay of Valencia. On a clear day, even the Balearic island of Ibiza is visible. In addition, the view from the summit cross of the Montgo is breathtaking. This 360 degree view of the whole surrounding area is impressive. Just sit and enjoy!
Information about the ascent can be found at the tourist office in Denia and Javea. They also have maps and hiking routes for every level of difficulty. The Montgo area also offers beautiful walks for different levels of fitness. A walk on Sunday takes less than an hour with the small group. Meanwhile, there is a variety of plants, trees and shrubs that have become rare on this hiking trail. The visitor can also observe a large number of butterflies and insects. That is why it is so important for the locals of Denia and Javea to preserve this unique nature reserve.