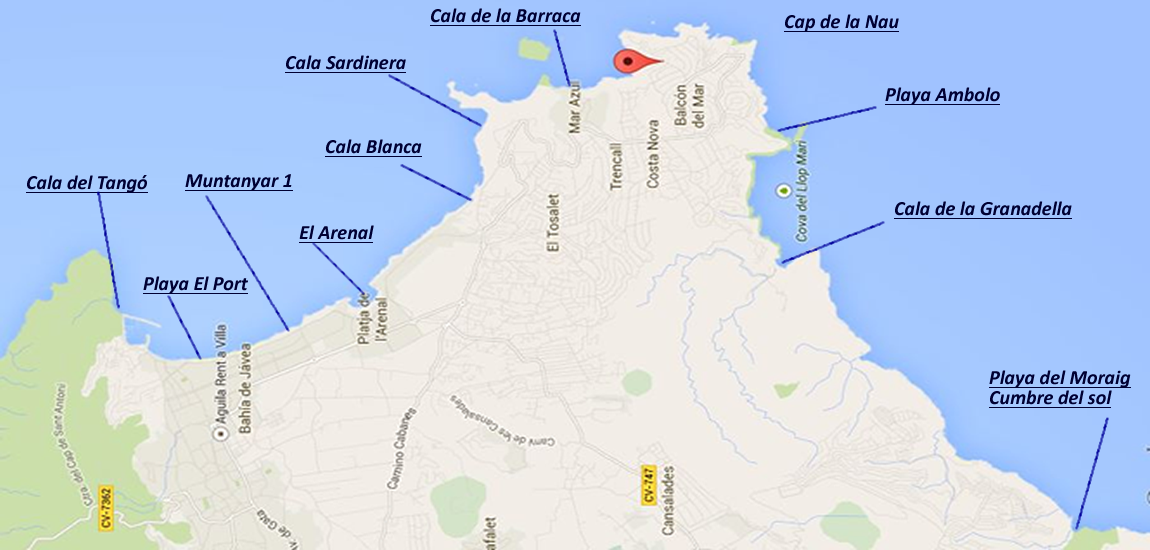 The beaches and Bays in Javea are well known for ist variety of small and large bays and its big sandy beach with a boulevard. Jávea, or Xábia as it is called by the locals, is situated on the most oriental spot of Spain, around the "Cabo La Nao" it is surrounded by water by more than 180º. That's why this is an ideal spot to discover bays from the ground as well as by boat from the sea. Of course also sandy beach lovers will be happy in Jávea. The so called "El Arenal beach" in Jávea offers a sandy beach with a length of around 1,5 km and an adjacent boulevard with a large variety of bars, restaurants, nightlife and shopping opportunities.
Consecutively we will list you the most important beaches and bays in Javea/Xábia:
El Arenal Javea
La Barraca (also known as "Mar Azul" or "Portichol Beach")
La Granadella
Cala Sardinera (also known as "The pirate beach Portichol")
Caleta (also known as Cala Blanca)
Muntanyar 1
El Port (Beach next to the port)
Cala del Tangó (Beach behind the port)
Cumbre del sol
Out of all the beaches and bays in Javea the Arenal is the most popular sandy one, with a length of around 1km. This beach is very well visited, because the water is very shallow. From small children to older visitors this beach is ideal to swim, sun bathe and play. There is also a playground for children and several volleyball nets. The beach extends from the lookout point "Punta del Castell" until the other side of the "Parador de Turismo".Directly adjacent to the beach there is the beach promenade with a lot of bars, restaurants, shops and nightlife in Jávea.The sandy beach "El Arenal" is rewarded with the blue flag every year.
Facilities and services on the Arenal beach:
Rental of sunbeds and parasol
Life-guards and Supervision
Foot shower
Paddleboat and canoe hire
Floating platform (only in the high season)
Taxi station
Busstop
Parking spaces
Public Payphone
Fine sand
Cala de la Barraca beach or Portichol (2)
Secondly the beach of La Barraca consists mostly of medium-sized stones mixed with sand and rocks at the end. This beach is very popular for divers and water sports enthusiasts and was for many years a secret tip, because not that many people in the summer came to this beach.
Today, the beach is well known, also due to the original Spanish restaurant "La Barraca" that is known for its paella. Meanwhile, the well-known Bar Cala Clemence has also been established there for a few years. This is very popular for celebrating weddings.  In the summer you can find a canoe rental. There are some old and restored fisherman huts where the locals spend their weekends in the summer. La Barraca is a beautiful natural beach for those who want to be a little away from the tourist hassle. There is a small island called Portichol (Portixol) which is directly opposite the beach and is of great interest for conservationists.
Common facilities and services at La Barraca beach:
Lifeguards of the Red Cross
Parking spaces
Restaurant
Canoe hire
Diving and snorkelling
Opposite of the nature environment Portichol
Two villas to rent on the beach of La Barraca – privileged place!

Casa Alicia, Javea, up to 10 people with direct access to the beach of La Barraca.
Casa Luna, Javea, up to 14 people, just behind Casa Alicia with private pool and good price.
Cala de la Granadella (3)
La Granadella is one of the southernmost bay of Javea / Xábia and consists of a mixture of stones and rocks. Due to the crystal clear water the beach or bay is very well known and popular also for divers. Many boats come here during the summer to anchor at the bay, due to the resident restaurant at this beach which is very popular. The bay is reached by a 2 km long road curve. From here, there also begins a nice walking trail to Castell de la Granadella.

Common facilities and services on the beach of La Granadella:
Lifeguards
Natural beach
Blue Flag for the bay
Rental of sun loungers and parasols
Floating platform (high season only)
Diving and snorkelling
Restaurant, WC and telephone
Foot shower
Kiosk
Mooring buoys
Parking spaces
Cala Sardinera (Pirate beach) (4)
This bay or beach consists of Middle-and large stones and is located on the north side of the Cap de la Nao and Cap Negre. This beach is only accessible by a steep path from the Cruz del Portichol. The descent is beautiful, because it leads through untouched nature. Previously, the sardine nets were designed in this bay, therefore the name. of the beach. The bay has a length of about 300 meters and it´s known for all boat lovers which anchor there during the summer months.
Properties of Cala Sardinera:
Nature beach
Snorkelling
Mooring buoys
Cala Blanca (La Caleta) (5)
Cala Blanca, which means "white bay" owes its name to the white cliffs and consist of two bays called Caleta 1 and Caleta 2. A narrow path connects these. You can admire magnificent structure of eroded rocks. The small, different bays consist of stones and rocks. From the parking area there are still about 200 meters to walk on a nice path until you get to the small bay. Only a few meters before the car parking there is also an original, simple, local Spanish Restaurant, overlooking the sea, which serves local dishes.
Facilities and properties of Cala Blanca:
Stones and rocks
Beautiful rock formations
Beach promenade
Parking spaces
Mooring buoys
Snorkelling
Under Muntanyar I, we understand the distance between the point Parador (end of El Arenal Javea) to the port area. This section consists of rocks, which are mostly flat and partly the sea is accessible by construction ladders. On this beach you can find lots of natural Tosca stones as it is were they where mined earlier. Along the beach Muntanyar from May to October you can find the "beach bars" that are temporarily constructed bars along the coats, which is popular for the tourists as well as residents to have a drink, a bite to eat and to enjoy the view of the sea. However there are also all year round opened bars and restaurants, such as La Siesta (Beach Club) and the Montgo di Bongo.
Facilities and features of Muntanyar I:
Length of 2 km
Parking spaces
Rocks
Swimming and snorkelling
Beach bars in the season
Restaurants
View point Sequía de la Noria
El Port (Playa de Grava) (7)
The "Playa de Grava" translated stone beach, located south of the port of Javea, belongs to the district Aduanas del Mar. This beach is popular for residents at the port and the city centre. Next to the beach you will find the harbour promenade with its many shops, restaurants, bars, hotels and supermarkets.
Common facilities and services at La Grava El Port:
Rental of sun loungers and parasols
Lifeguards
Beach promenade
Bus Stop
Taxi statios
Restaurants and Bars
City beach
Tourist Information
Parking spaces
Public telephone
Snorkelling
Stone beach
The beach and the bay Tangó or Pope is located behind the port of Javea, just below the Cabo of San Antonio. The beach has been taken away long time ago by the waves of the sea, however it is still possible to enjoy several small bays which are connected by a footbridge. You will also find the restaurant El Tango.
Properties of beach El Tango:
Stone and rock beach
Restaurants
Parking spaces
Viewpoint and pier
Beach in Cumbre del sol – Cala de Moraig (9)
Finally we would like to mention Cumpre del sol even though it is not part of Javea it belongs to Benitachell. However we would like to mention this beautiful beach as it is only 10 to 15 minutes away by car from Javea and its very popular. This beach is a stone beach and thanks to the mountain it is very sheltered and surrounded by beautiful nature. It is common to many divers and water sports enthusiasts.
Common facilities and services at the beach Cala de Moraig:
Kiosk
Beach bar
Rental of sun loungers and parasols
Natural beach
Parking spaces
Diving and snorkelling
Lifeguards
Walking Trail