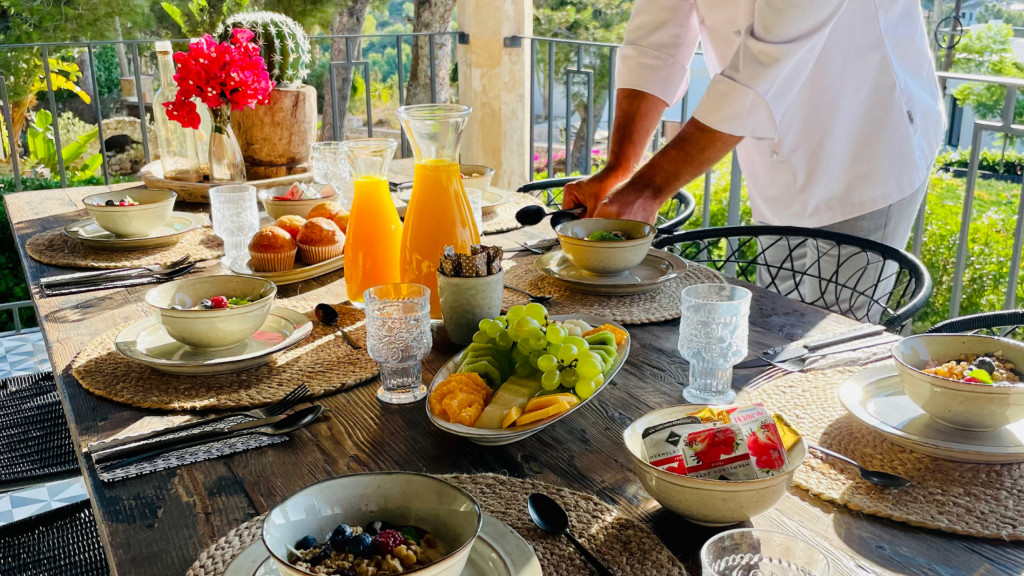 We are proud to our latest collaboration with Denistars private chef services for your holiday home. We are always looking to give more service and quality features to our clients. Now if you want, you can book a breakfast service or chef diner directly in your holiday villa. Careless holidays… imagine to wake up in the morning, open your terrace door and the breakfast table has been already layed. With fresh bakery products, fruits and the smell of a nice coffee. This can be true. Your breakfast menu offers you a variaty of dishes, each day different. And all dishes done directly in the kitchen of your holiday villa or house. You can choose from a breakfast menu card and determine the days and times you wish to have it.
Pallea, Barbecue and co. – your private chef at home
we know that a lot of clients would love to have a fresh paella to join it with family and friends at the holiday home. But especially non spanish clients, dont know how to do it. Or maybe you wish to have a nice barbecue or diner in the evening? Bbut you dont want to waste your worthful holiday leissure time to go to supermarket, preparing and cooking fresh and tasteful plates during your vacation. There is no need for this ! Just book Denistars private chef and they prepare nearby all your favourite meals. Tasteful plates, dishes and Barbecues directly in the holiday home you booked.
You will be surprised how good the food tastes as it would be prepared with fresh food directly from the market, local providers or fish each day freshly delivered from the fishermans boats. Even meat will be highest quality and standards. And the best, all for a really reasonable price. Enjoy private and direct service for the price of a visit in a good restaurant.